This is a translation for Oxford Omnia by Ky Nam Nguyen of an article on the Vietnamese news site thanhnien.vn, originally published in Vietnamese on 29th September 2019.
Why Ky Nam thinks this article is important; 'though he didn't mention China directly, Vietnam's Deputy Prime Minister's speech to UNGA on the 28th September confirmed expectations: that Vietnam would bring its case to the UN to mobilise international support in relation to the Vanguard Bank Incident in the South China Sea.'
Vietnam urges for respect for international law in the South China Sea.
"We urge relevant parties in the South China Sea to respect international law, especially the United Nations Convention on the Law of the Sea 1982, considered the Constitution of the oceans," Pham Binh Minh stressed in his UNGA speech.
Being a conduit for the Indian Ocean and the Pacific Ocean, the South China Sea has strategic importance to peace, security, and prosperity in the Asia-Pacific region. The Deputy PM iterates that mutual efforts of relevant parties will bring on positive outcomes for resolving differences and conflicts.
"On multiple occasions Vietnam has voiced its concerns about the recent complicated developments in the South China Sea. Relevant countries should exercise self-restraint and refrain from unilateral actions that may escalate tensions at sea, settling disputes through peaceful measures in accordance with international law, including the UNCLOS," said Pham Binh Minh, restating the country's stance on the current territorial dispute between China and Vietnam.
Leading to this moment, since the 4th July 2019, the day the Haiyang Dizhi 8 survey ship and its escorting forces started illegal surveying operations in the Exclusive Economic Zone of Vietnam, spokesperson for Vietnam's Ministry of Foreign Affairs Le Thi Thu Hang has denounced these acts at least five times, demanding China to end its maritime law violations at once.
Vietnam has also communicated with the Chinese on many governmental levels, asking the country to respect international law, sovereign rights and jurisdiction of Vietnam within its territorial seas.
International law is the basis of equitable relationships between states
In his UN speech, Pham Binh Minh also recalled the hard-learned lessons in "the bloodiest chapter in mankind's history", World War II.
The horrendous price of the war helped nations realise the necessity for a centralised security system predicated on multilateral control and international law, as a foundation for post-war world order. That decision has proven to be judicious.
However, multilateralism is facing the challenge of opting between reserved national interests and collective values; competition and confrontation between great powers are favoured over collaboration, dialogue, and respect for international law.
Pointing out the realities, PM Pham Binh Minh emphasised other global challenges that no countries are immune to, weak or strong, such as climate change, environmental degradation and other lurking conflict risks.
The advancement of science and technology has brought about new weapons and means of warfare. Military expenses are at their highest in history, as the world veers in the direction of a new Cold War.
In that context, Pham Binh Minh urged all nations to collectively revive multilateralism and consolidate the United Nations mechanisms. States must unanimously enact laws and abide by those laws.
"International law is the foundation for equitable relationships between countries. All actions must be in accordance with and respectful of international law. Vietnam believes that upholding international law is the most important measure to avoid conflicts and find solutions to conflicts. We endorse all efforts to resolve feuds through peaceful means in alignment with the UN's principles and international law, including negotiation, mediation, and judicial", the Deputy Prime Minister said.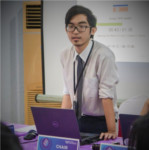 Ky Nam Nguyen is a student at Dickinson College pursuing Political Science, with a special interest in economics, social issues, education, and international relations. Currently, he's taking a year out to do social work and research around his fields of interest.