This is a translation for Oxford Omnia by Ky Nam Nguyen of an article on the Vietnamese news site voatiengviet.com, originally published in Vietnamese on 25th September 2019.
Why Ky Nam thinks this article is important; 'Vietnam and China have been engaged in a tense territorial dispute since the latter sent a survey ship to the former's Exclusive Economic Zone in the South China Sea in July. Vietnam's statements at UNGA might gain the country leverage against its northern neighbour.
A high-ranking Vietnamese official is expected to give a speech at the world leaders' meeting UNGA. Analysts have raised that Ha Noi should put forward the confrontation between the country and China at Vanguard Bank, claimed by both Vietnam and China, to mobilise support from the international community.
The office of the Spokesperson for Secretary-General Antonio Guterres has stated that, according to the current schedule, a Deputy Prime Minister of Vietnam will address the Assembly on 09/28. Vietnam's foreign affairs ministry confirmed that Deputy Prime Minister Pham Binh Minh has flown to New York to join other world leaders.
On 09/18 press conference, Chinese foreign ministry spokesman Geng Shuang demanded that Vietnam "immediately end" unilateral oil inspecting activities at the Vanguard Bank. All the while, Hanoi has denounced Beijing multiple times for illegally escorting the Haiyang Dizhi 8, or Marine Geology 8, survey ship into Vietnam's Exclusive Economic Zone prescribed in the UNCLOS.
"China has sovereignty over the Nansha Islands (Spratly Islands), hence sovereignty and jurisdiction rights regarding territorial waters of Wan'an Tan (Vanguard Bank), situated within the Nansha Islands", Mr.Shuang stressed.
Commenting on the statement deemed "perverse" by many Vietnamese, Mr. Gregory Poling, Director of the Asia Maritime Transparency Initiative at the Center for Strategic and International Studies, suggests that Vietnam bring the dispute to its UNGA agenda.
"In the long run, Vietnam's only option, with the aim to fend off China's territorial self-proclamation, is to garner global backing so that Beijing feels the sense of diminishing diplomatic reputation. Heretofore, other than the US, Hanoi has yet to secure any countries' standpoint in the issue", Mr.Poling said.
"A speech at the United Nations General Assembly will draw the attention of influential countries such as Australia, Japan, Britain and encourage opinions of usually reticent ones."
Last year at the UNGA, when tensions regarding the South China Sea were less simmering, Vietnam Prime Minister Nguyen Xuan Phuc mentioned the topic of territorial waters disputes, with the assertion that Vietnam "always steadfastly holds in high regards the Charter of the United Nations, basic principles of international law in resolving oversea conflicts with peaceful measures, among which are disputes in the East Vietnam Sea (South China Sea), on the basis of the 1982 UNCLOS and the guaranteeing of maritime and aviation security and freedom."
One year before that, Deputy Prime Minister Pham Binh Minh also stressed similar remarks at the United Nations, calling upon "all involved parties to restrain themselves."
Mr. Poling reasons that mentioning the Vanguard Bank incident will, for certain, set off China's ire, but it will also spawn negative response against Beijing from similar-standpoint countries in Europe, the USA, Canada, or Japan. Moreover, it will open the door for these countries, especially the US, to seek more international-stage approval on behalf of Vietnam."
President Donald Trump, on 09/24, used his UNGA speech to send a firm message to China about the US-China trade war and caution that the world is watching how Beijing handles the situation in Hong Kong. China's minister of foreign affairs Wang Yi retorted that Beijing would not kowtow to any threats.
Pertaining to the upcoming speech from Vietnam, asked if Hanoi stands much chance of gathering approval at the UNGA on the Vanguard Bank incident, Mr.Poling said that "there are more countries who oppose China's territorial claims than those who don't".
In 2016, more than 50 countries congratulated Philippines' "win" when it filed a lawsuit against China's territorial claim of almost the entirety of the South China Sea at the UNCLOS's Permanent Court of Arbitration, whereas just over 30 states, mostly in the Middle East and Africa, stood along Beijing's side to object to the court ruling. A host of scholars and activists in Vietnam have pushed Hanoi to follow in Manila's footsteps to sue China.
"The Vanguard Bank incident will undoubtedly encounter reluctance due to China's pressure on small states in Africa, the Middle East, Latin America, and some Asian countries, but more will be on Vietnam's side than on China's, and the former ones have much more in influence," said Mr.Poling.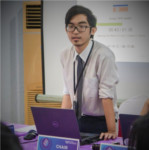 Ky Nam Nguyen is a student at Dickinson College pursuing Political Science, with a special interest in economics, social issues, education, and international relations. Currently, he's taking a year out to do social work and research around his fields of interest.